I leave tomorrow for the 2011 Small Press Expo in Bethesda, MD. I missed the last two, so I'm looking forward to reliving my old Fall ritual again (I used to go every year). If you're in the area, stop by my table. I'll be signing books and will probably have some prints on hand as well. I'd tell you the table number, but there might be some reshuffling due to earthquake-related repairs to the hotel, so you'll just have to find me.
In related news, here's a Washington City Paper interview with me in advance of the show. Many thanks to the estimable Mike Rhode. Coincident with this week's cartoon, there's an ad in rotation on that page with a BIG QR CODE!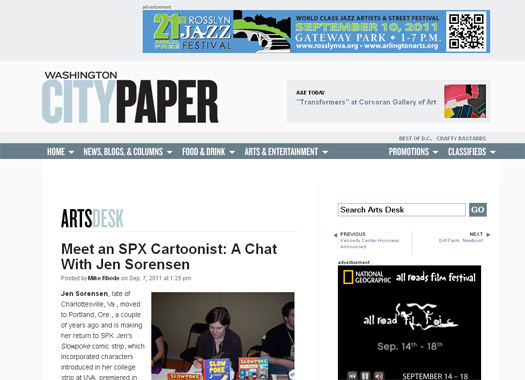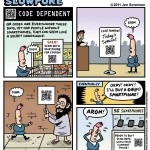 I'm almost embarrassed to admit this as a media-type person, but I still do not own a smartphone. My rudimentary cellphone has become a perverse point of pride for me. I figure I've saved thousands of dollars over the past few years, so why stop now? Plus, I work from home, where there's plenty o' internet. Too much, in fact. Oh, I'm sure I'll get an iPhone eventually… once they're considered the Atari of mobile technology.
But these QR codes popping up everywhere, readable only by people who own a Secret Decoder Ring, seem just a little, well, exclusionary to those of us who are frugal with our phones. This will almost surely lead to a greater incidence of Cellphone Inferiority Complex.