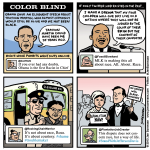 Reference material for this cartoon: this ThinkProgress post detailing the "Top 12 Conservative Freakouts After Obama's Race Speech." The tweet in the first panel is real; the tweet in the second panel is taken verbatim from former Rep. Joe Walsh (R-IL), substituting "MLK" for "President Obama." The other two I made up, but frankly it's hard to get more extreme than this marvel of vacuousness from Breitbart.com's John Nolte:
"I like living in a country where a black president elected twice complains about racism."
I read these comments before I got around to watching the actual video of Obama's remarks. Far from being inflammatory, the speech was sober and circumspect. There's simply no hope for anyone who found it "racist" — they are lost at sea. And anyone trying to twist this sad story around to make Trayvon the aggressor: really? I guess only certain people are allowed to stand their ground when they feel threatened.