The
Sorensen

Monologues

For the time being, I'm going to try to maintain a more regular schedule of posting my comic here on Monday night/Tuesday morning. My travels and editing work for Fusion have made posting a little unpredictable over the last several months, so to simplify things, let's say Tuesday morning is the new time.
---
Over on Graphic Culture, I've been working with ace comics journalist Andy Warner on this excellent piece about a grower in California trapped in legal limbo. It's a fascinating look at entrepreneurship while walking a very fine line until full legalization (probably) happens.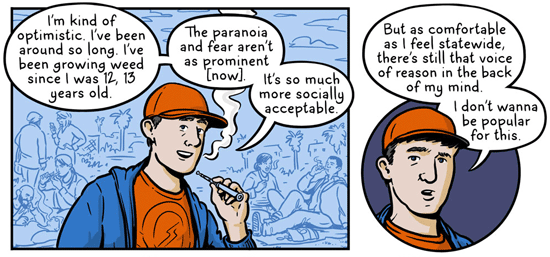 ---
My recent graphic journalism piece for Fusion about my friend's sexual assault got a large response. Here's a post I wrote on the feedback I received.
---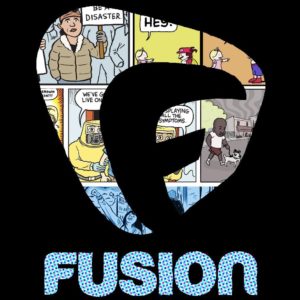 Some of you have noticed a lack of activity here on the blog, and later posting of cartoons than usual. This is because I have started working as Comics Editor for Fusion, a new media company from ABC and Univision. If you aren't familiar with Fusion, it's both a cable channel and digital news outlet aimed at diverse young adults. (It's OK if you're not a young adult — you can still enjoy it.)
Last fall, we launched Graphic Culture, a collection of cartoons, comics, and longer-form graphic journalism pieces, as well as occasional animation and articles about cartoonists. The site is still in "Beta" — a whole new site, and Graphic Culture front page, is coming soon. But I invite you to check it out now. We've published lots of great stuff already, including this roundup Charlie Hebdo cartoons.
If you'd like to help out, please follow us on Facebook, Twitter, or Instagram. I'm very glad to be able to create new opportunities for cartoonists and bring new comics projects into the world.
So now you know why I haven't been blogging much. I have a good excuse!
---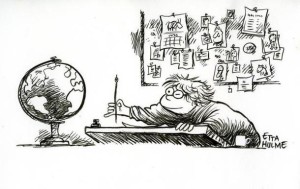 Pioneering editorial cartoonist Etta Hulme, who worked for the Ft. Worth Star-Telegram for decades, passed away recently at the age of 90. She drew cartoons well into her eighties, retiring in 2008. Hulme was, at times in her career, the only female political cartoonist working professionally in the entire country. She was a great artist and a political iconoclast in Texas, in the Molly Ivins and Ann Richards mold.
It's puzzling to me how this amazing woman flew under the radar of the powers-that-be for her entire life. She never won a Pulitzer, despite her high-caliber talent that, in my opinion, exceeded that of many Pulitzer winners. Her Wikipedia entry is only a few lines long. Apparently she didn't merit a New York Times obituary — unlike many obscure businesspeople, authors, and filmmakers who populate that section. But you can read remembrances of her on the Washington Post's Comic Riffs, which interviewed several cartoonists, including me. The Star-Telegram has more.
---
I had a whirlwind of a week in DC for the Herblock ceremony, and did not get around to posting the latest cartoon on Monday as usual. Fortunately(?), Donald Sterling is still making headlines by putting his foot in his mouth.
Also, be sure to check out this truly wonderful Washington Post article by Michael Cavna that was published the day of the Herblock event.
---
I've appended some follow-up thoughts on my Kaiser Health News comic to this week's cartoon, below. (Posting this to cycle it into the blog section of the front page).
---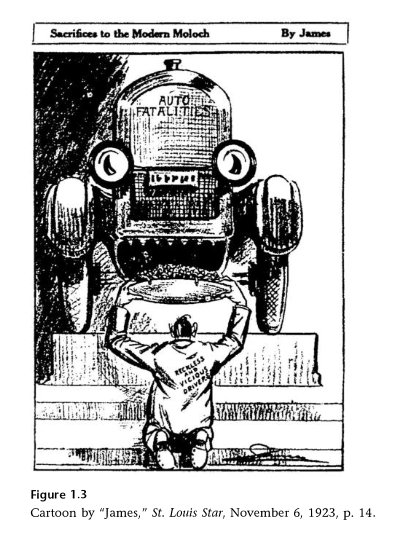 In response to this week's cartoon on pedestrian rights, a reader sent me a link to this fascinating article and podcast about city streets in the early 20th century. The streets used to be for people, many of whom resented the introduction of cars, which had a tendency to slaughter children. Automobile interests promoted the concept of "jaywalking" to ridicule pedestrians — a belittling term with connotations of "country bumpkin."
Coincidentally, one of the hosts of the podcast (Jesse Dukes) is someone who was at the University of Virginia at the same time I was. I didn't know him personally, but I'm pretty sure we crossed paths during my day job years at the library.
---
Those who blame poverty on poor people not trying hard enough (and even those who don't) should watch the Frontline documentary "Poor Kids" about the kids in a few struggling families in the Midwest. I finally got around to watching it myself last night, something I've been meaning to do since it was named the winner of a 2013 RFK Journalism Award for Domestic TV. Warning: will make you realize everything is worse than you thought.
---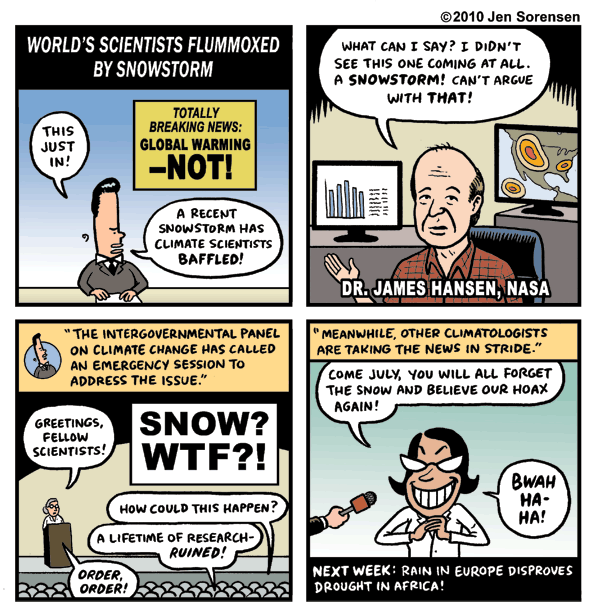 Ah, it's that time of year: Snowstorms and cold weather inspire a flurry of bad editorial cartoons questioning the science of global warming since, you know, it's really cold out. To honor the occasion, I'm sharing a strip I drew a few years ago as a reaction to those terrible cartoons.
A few readers failed to detect the snark in this one, and wrote me very angry emails attempting to explain how climate change worked. So please be sure to wear your sarcasm hat.
---
I've noticed an uptick in angry email lately, ranging from the mildly disgruntled to the downright ugly. To wit, this gentleman's missive:
How exactly was the "shutdown" an "actual economic disaster" you dumb c*nt?

oh, never mind.

–corey
(Asterisk added by me.) OK, here's your answer:
"The bottom line is the government shutdown has hurt the U.S. economy," S&P said in a statement. "In September, we expected 3 percent annualized growth in the fourth quarter because we thought politicians would have learned from 2011 and taken steps to avoid things like a government shutdown and the possibility of a sovereign default. Since our forecast didn't hold, we now have to lower our fourth-quarter growth estimate to closer to 2 percent."
More on how the government shutdown hurt the economy here.
---

I find Rand Paul's blend of cockiness and paranoia to be endlessly fascinating, so I got a little excited when I received a fundraising letter that was intended for a previous resident. What I like best is that along with all the usual 1960s-era Cold War government-as-fascism nonsense, you get a header taken straight from the Mad Men logo. All that's missing is the cigarette.
He's also asking for a $600 donation. That's Don Draper money! Clearly he stands with the little people — all the ones with six hundred clams to send to a libertarian frootloop. At least he knows from what era he comes.
---