What I've Been Up To: Reubens! Travel! Lightbulbs!
It's been a while since I babbled about myself in this space, so here's a giant autobiographical news dump for you. Last month I took a trip to the Pacific Northwest to get my stuff out of storage, and am happy to report that I have a proper drawing table again after many months of using any available surface. My office is slowly shaping up, as I make my way through a giant crap pile in the middle of the floor. My main problem is that I have no place to put the crap, meaning I need to go out and buy some more crap to put the crap in, and I really have no patience for that sort of thing.
Upon returning from the Northwest, I took off for Pittsburgh for the National Cartoonists Society annual Reubens Weekend. I almost didn't go, but am very glad I did, because I won the NCS Award for Best Editorial Cartoons! The Reubens are often referred to as the Oscars of the cartooning world, except with none of the media coverage of the Oscars. Here I am holding my lovely plaque, which I look forward to hanging in my office as soon as I buy some nails.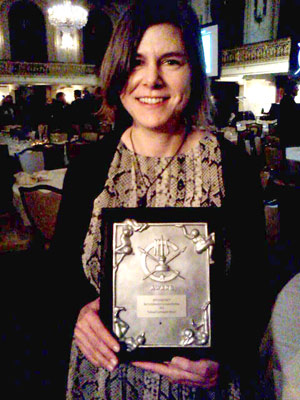 I also had the pleasure of appearing on a panel that weekend with several luminaries from the daily strip world. From left is moderator Hilary Price (she stood on a chair while orating at one point, a technique I will have to try on a future panel), Terri Libenson, me, Cathy Guisewite, and Lynn Johnston.
Never in my wildest imagination as a wee youngster reading the comics page did I think I'd be sitting beside THE Cathy and the creator of "For Better or For Worse" at a conference someday. Afterwards, some of us went out for delicious sandwiches with french fries in them at Primanti Brothers.
A day or two after the Reubens, I found out that I am a finalist in this year's Association of Alternative Newsweeklies Awards. I can really get behind this award-a-day plan. At risk of excessive horn-tooting, around this time I was mentioned in the New York Times, in a review of Victor Navasky's book on political cartooning. I'm listed as an omission from the book, along with several prominent cartoonists whose absence from any book on political cartooning is frankly bewildering.
Right now I'm knee-deep in freelance work and home improvement projects without end. I did manage to successfully change the lightbulb in my refrigerator the other day, and now I can see my food again. This has been my greatest recent accomplishment, aside from the NCS Award.
Next week I'm off to Utah for the Association of American Editorial Cartoonists convention. Yesterday, I was the "guest cartoonist" for my colleague and all-around good guy Pat Bagley in the Salt Lake City Tribune; they ran my gun control strip from a few weeks ago. Stay tuned for further developments from the Beehive State.
---