Anti-abortion group fundraising off ACLU comic
This is kind of amusing. Americans United for Life, who were mentioned in my comic for the ACLU about the new anti-choice laws sweeping the nation, sent out a fundraising email to their supporters in response to the comic. The complete text:
Subject: Charmaine Attacked by ACLU
Dear Friends and Supporters,
Yesterday I received a phone call from our media team to tell me that the ACLU had targeted AUL. . . in a cartoon!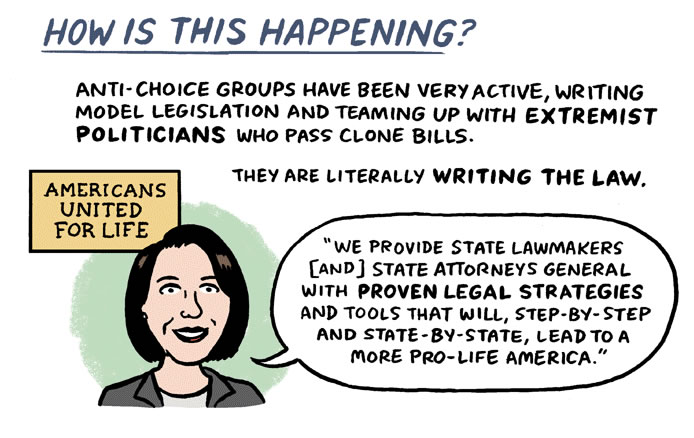 I have to admit, I was taken aback. It's a clear caricature of AUL's President and CEO, Dr. Charmaine Yoest, mocking our efforts to defend women and unborn children.
Of course, personal attacks against your AUL team are nothing new. We've had radical bloggers post our home addresses online; family members have received hand-written threat letters in mailboxes; and just last week someone infiltrated the post office and attempted to redirect our mail in an effort slow us down.
At AUL, we know we will face personal risk, and we accept it knowing that saving lives and protecting women is well worth it. The more successful we are, the more virulent our opponents become.
But, the ACLU's attack is particularly concerning. No longer are we facing threats from radical lone-ranger pro-aborts, but bullying from the ACLU, a well-funded nationally-known organization of attorneys. The ACLU even enlisted the help of well-known comic artist Jen Sorensen to create the cartoon.
The ACLU has reached a new low in professionalism by childishly mocking the individuals who make up your AUL team merely because we are effective in advancing a cause we believe in.
The sacrifice and dedication of our team to Life is no laughing matter. And this juvenile attack by the ACLU only serves to increase our dedication to continue fighting for Life.
If you would like to show your AUL team special support in light of these events, any donation you can make today is appreciated. Thank you for standing with us as we face these attacks.
***
"Radical lone-ranger pro-aborts"?! That's one I haven't heard before. I'm also pretty sure this is the first time I've ever been accused of bullying. If anything, I tried to draw Charmaine Yoest, AUL's president, in a straightforward manner so as to present the group's self-stated agenda as plainly as possible.
I realize fundraising emails tend to be hyperbolic, and I don't bear AUL any particular ill will. At least they referred to me as "a well-known comic artist." But I do find it interesting that instead of responding to the points I actually made in the cartoon, they simply resort to pejoratives like "juvenile" and "childish." Yoest also dismissed my "cartoonish images" in a statement to the  Washington Times, which wrote an entire article about the comic. A political cartoonist drawing cartoonish images? Well, I never!
---