This Week's Cartoon: "…Rand Justice For All"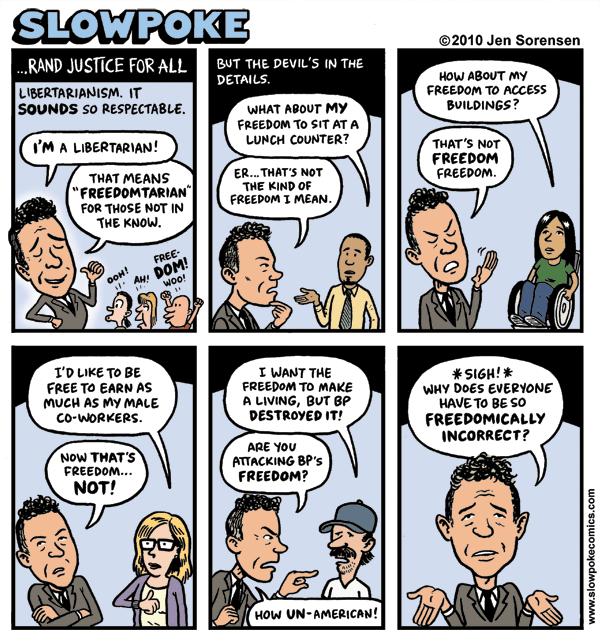 ---
I seem to have a number of libertarian readers, or at least, I used to before I drew this cartoon. As I anticipated, some have complained that Rand Paul doesn't speak for them. But according to several prominent libertarians quoted in this nicely-researched TPM article, Paul's take on the Civil Rights Act is well within the mainstream of said political philosophy. Apologies for the lengthy quote, but this stuff is just so great:
Paul's stance is "very reasonable, and quite close to the Libertarian position," a spokesman for the Libertarian Party told TPMmuckraker.

"If some private business discriminates we think that's unfortunate, but we don't think the government should get involved in banning it," said the spokesman, Wes Benedict. "That's just a negative that we have to tolerate in a free society."

Walter Block, a libertarian professor of economics at Loyola University, and a senior fellow with the libertarian Ludwig Von Mises Institute, went further. "I think anyone who doesn't believe that isn't a libertarian," he said, calling Paul's comment "a very mainstream libertarianism."

"I'm delighted that Rand Paul said that," an enthusiastic Block added. "I think it's magnificent. I didn't realize that he was that good."

"The spirit of non-discrimination," said Block "ends you right up in compulsory bisexuality."
DOH! One minute you're requiring restaurants to serve blacks, the next minute, everyone has to shag everyone! Such a slippery slope!
Am I saying libertarians are racists who hate the disabled and women in the workplace? No. Am I saying their ideology is impractical to the point of silliness? Well, yes. As I was saying over on Facebook, what really gets me is the quaint notion that violations of our freedom only come from "the guv'mint." In the cases of slavery, the segregated South, and Lilly Ledbetter, the market wasn't exactly doing a good job of regulating itself. Libertarianism may champion the ordinary individual, but in practice, it lets the bullies win.
---