This Week's Cartoon: "Welcome to Ball-Mart"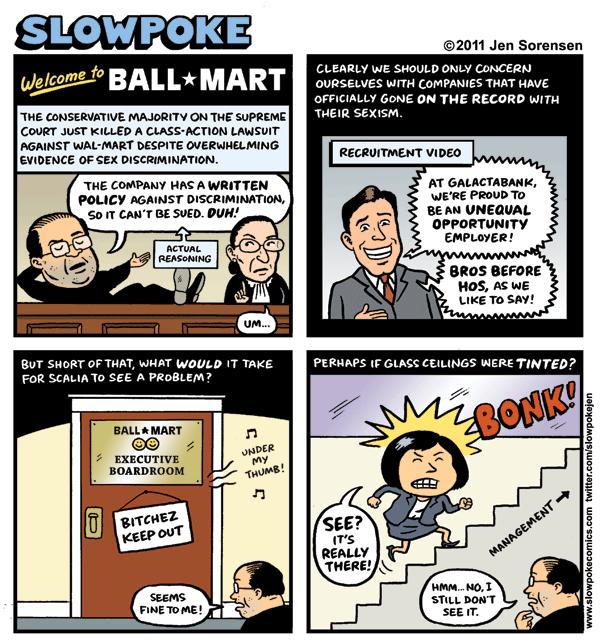 ---
I'm sensing a distinct lack of outrage over the Wal-Mart sex discrimination ruling, probably because it's more complicated an issue than a politician tweeting boner pics. In a nutshell (er, no pun intended), the Supreme Court ruled 5-4 against female employees being able to file a class-action lawsuit, with all three female justices dissenting. Scalia, refusing to see any correlation in the vast statistical and anecdotal evidence, said the myriad women who faced discrimination must confront the retail Goliath individually. Never mind that the top brass at Wal-Mart turned a blind eye to everything. The discriminatory managers were just a few thousand bad apples! Oh, and as Ruben Bolling points out in this week's "Tom the Dancing Bug" Scalia's son is on the Wal-Mart legal team.
I recommend this post by Adam Serwer on The American Prospect for more on the ruling. Key grafs:
Not only do you have to prove the "old boy network exists," but now you have to do it under a higher standard of proof than ever before. Where discrimination operates as unconscious or unacknowledged bias, rather than as a deliberate, concerted effort to bar one particular group of people from advancing, even where the systemic impact is clear, the conservative justices see no evil.

Scalia's opinion reflects the deeply flawed view that intent is required for discrimination, and that nominally being opposed to discrimination is by itself an effective bulwark against discrimination occuring. As Ginsburg wrote in her partial dissent, "Managers, like all humankind, may be prey to biases of which they are unaware."
Or, as this USA Today editorial points out:
Many legal experts say Monday's decision will make it difficult to bring cases unless there is an overt policy of discrimination. That seldom happens. Companies don't write out discriminatory policies for the world to see.
What good is outlawing sex discrimination de jure if it cannot be applied de facto? But hey, we saved the world from Anthony Weiner's pixelated wang.
---