Hangin' with the Fed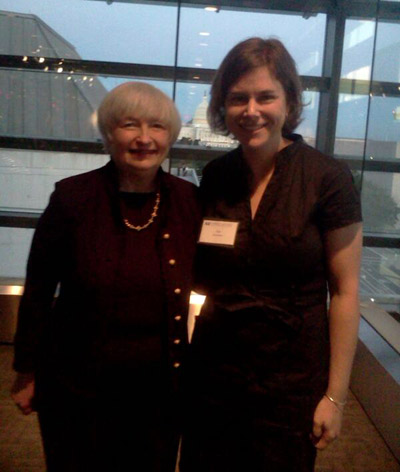 I was happy to learn this week that Janet Yellen has been confirmed as the first female Fed Chair in U.S. history. One of the highlights of last year for me was getting to meet Yellen in person. I was at the RFK Journalism Awards in Washington DC last September, and I noted to a friend sitting next to me that the Book Award winner, Joseph Stiglitz, had recently penned an excellent op-ed in support of Yellen. No sooner had the words escaped my mouth than I turned around to discover Yellen herself sitting in the row behind me. After doing a double-take, I introduced myself, explaining that I had drawn an editorial cartoon supporting her nomination. As it turned out, she had seen it. Both she and her husband, Nobel Prize-winning economist George Akerlof, were very gracious.
I appear tallish in this photo, but in fact I'm only a bit over 5'5″.
---