How not to be a sexist jerk this election season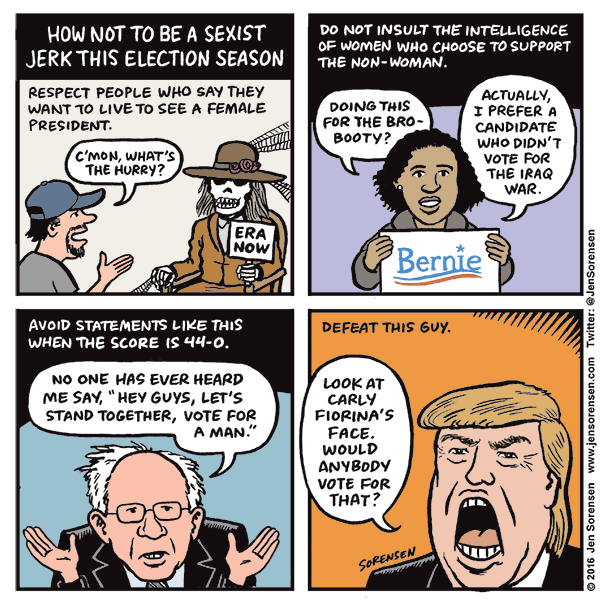 ---
I swore I wasn't going to do an election strip this week, but the alternative was a comic about excessive amounts of cellulose filler found in cans of grated Parmesan cheese. You can guess how well that went.
Let me say up front that I do not consider Bernie to be a sexist jerk, since I know that's what many people are going to assume. To the contrary, I think he's a feminist. He did, however, say something uncool that I felt needed calling out (in the same spirit, let's say, that he publicly criticizes Obama when he disagrees with him). For those unfamiliar with the backstory, Bernie was defending a controversial comment made by the rapper Killer Mike (who was actually quoting a feminist scholar friend) about a uterus not qualifying one to be president. Setting aside the point that I think most Hillary supporters are factoring in more than just the uterus situation, Bernie's claim that he would never ask voters to support him because he's a man struck me as an odd case of false equivalence, the kind of context-free, ahistorical argument we tend to hear from right-wingers shooting down affirmative action or calls for greater workplace diversity. Of course he wouldn't ask people to vote for him because he's a man. There's no need!
As I've mentioned before, I'm not particularly attached to either Hillary or Bernie, but I do think we need more women in politics. While gender certainly — obviously! — shouldn't be the only factor, there's absolutely nothing wrong with wanting a female president. And while I think the "Bernie Bro" phenomenon has been somewhat overstated, I've come to realize that a lot of otherwise well-meaning people just don't quite take our nation's glaring absence of a single female president or vice president very seriously. You don't even have to support Hillary to acknowledge that solving the problem is important. Just as President Obama has provided a positive role model and sense of possibility to countless numbers of people, a woman in the Oval Office would have a powerful effect.
---