What's in the Mueller Report?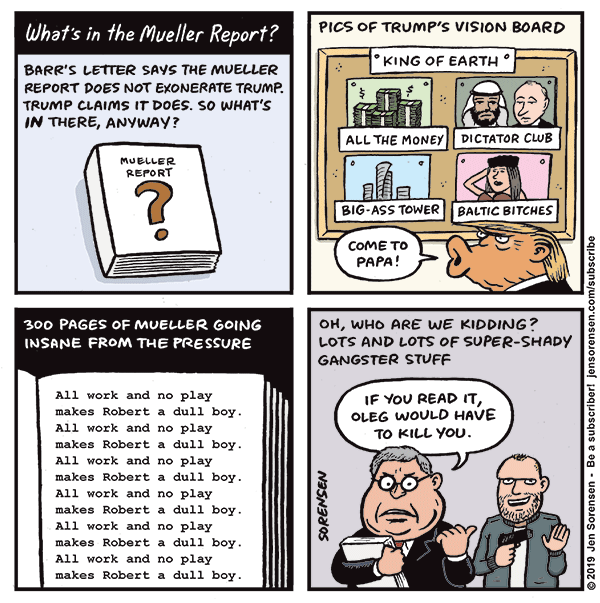 ---
While I still believe there's not much to say about the Mueller Report until we actually know what's in the Mueller Report, the response to the Barr letter has been disturbing. Barr was specifically hired to defend Trump at all costs. The man is a partisan toad with a long track record of partisan toadery; it's what he does. The Trump administration is defined by disinformation; it's what they do. To take anything said by a Trump official at face value, ignoring this vast context of corruption and disinformation, is simply bad journalism and poor critical thinking.
Mueller found many crimes and charged many people. We are only talking about his inability to bring indictments against top officials — which is a genuine mystery, and one that will only be resolved by the report itself. To quote TPM:
It is undisputed that the Russian government brazenly interfered in the 2016 election to support Donald Trump. In so doing, the Russians and those acting on their behalf committed a variety of federal crimes including computer hacking and conspiracy to defraud the U.S. Those crimes were committed to benefit (a) Vladimir Putin and the interests of the Russian government; and (b) Donald J. Trump. It is also undisputed that Trump and his campaign joyfully used and weaponized the information the Russians stole against Hillary Clinton. Trump personally trumpeted the Wikileaks disclosures 141 times during the campaign, and his surrogates countless more times. While Mueller's team apparently "did not establish" (i.e., did not find enough evidence to charge criminally) that Trump personally conspired with the Russian government to commit the underlying crimes, there is no question that he was (along with Putin) the single biggest beneficiary of those criminal efforts.
Now, pro-Trump conspiracy theorists are feeling extra-emboldened to call those who have actually followed this story the real conspiracy theorists. It's all rather depressingly Orwellian.
---