Fantasy Joe Biden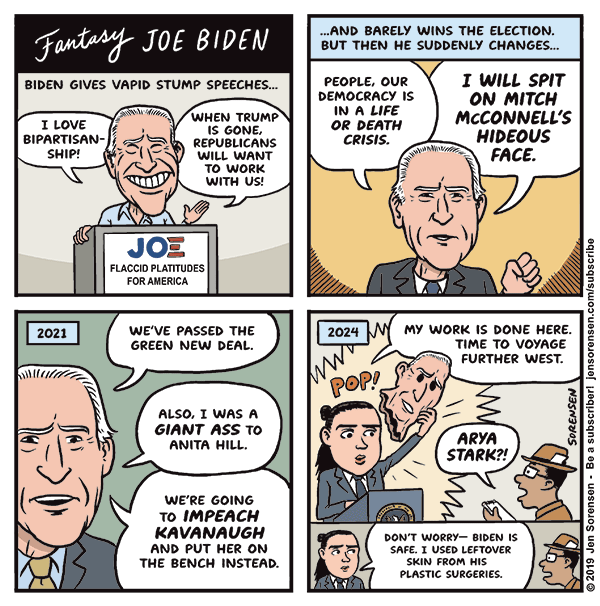 ---
OK, so I did give in to the temptation to make a Game of Thrones reference. For those of you who are unfamiliar with the show, Arya Stark has shape-shifting capabilities and, to put it gently, does not suffer fools. I like the idea of Arya taking over Biden for a while. The thing is, I didn't want to imply that she'd killed Biden, so I had to explain that somehow, and, well, if you look at photos, the man clearly has had some work done. I don't actually hate Biden, but I do think he's the wrong candidate for this moment, and his propensity for saying gratuitously stupid things (such as having no empathy for an entire generation saddled with crushing student loan debt in a time of record inequality while facing insane housing costs and apocalyptic climate change) is worrisome. I get that some voters like happy talk about working together with Republicans, but I don't think this sets us up well for standing up to the revolutionary assault on democracy currently being waged by the GOP.
If Biden becomes the nominee, there will be a time to rally around him — but right now I think it's useful to examine the candidates' shortcomings. I criticize not to destroy, but in the hopes that his campaign will do better. Otherwise, this country is toast.
Help sustain these comics — join the Sorensen Subscription Service!
---