Secular Assault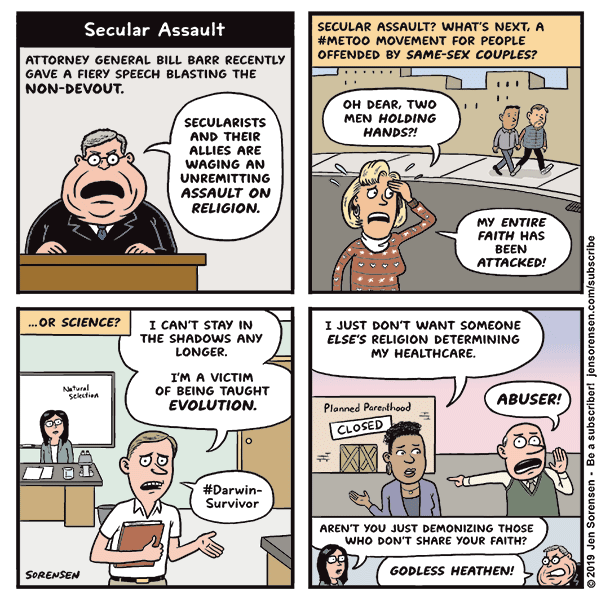 ---
A few weeks ago, Attorney General Bill Barr gave a speech at Notre Dame that appalled even many devout Catholics. The full quote in the first panel, which I had to paraphrase slightly for brevity, is "Secularists and their allies have marshaled all the forces of mass communication, popular culture, the entertainment industry, and academia in an unremitting assault on religion and traditional values."

Sometimes I can't believe it's 2019 and we are still having to relitigate the Enlightenment. This idea that morality can only come from Biblical teachings (and yes, I believe he is only talking about his own preferred holy book and not the Koran or the writings of the Buddha) is absurd and certainly not borne out in practice. Look no further than Barr's own disgusting hypocrisy, telling lies in the service of a wildly corrupt would-be dictator, enabling the destruction of the planet, the brutal treatment of refugees, cruelty toward the poor under a system of predatory greed and ever-widening inequality. Not to mention his disregard for the First Amendment's prohibition of a state religion. And yet progressives are constantly scolded these days as "intolerant" while smug theocrats like Barr get a pass.
Help sustain these comics — join the Sorensen Subscription Service!
---