Pride and Prejudice Anniversary Comic
Ever wonder what Jane Austen's "Pride and Prejudice" would look like as a one-page comic? For the novel's 200th anniversary, NPR Books asked me to create such a thing.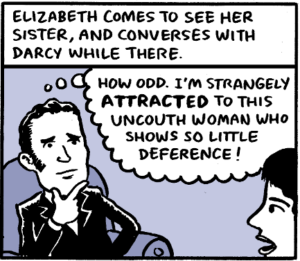 A technical aside: this was the first time I've ever had to lay out a comic specifically with mobile device readers in mind. Apparently NPR gets huge amounts of mobile traffic, so they split the comic up into individual panels that rearrange themselves depending on platform/screen size. Pretty interesting, and something Jane Austen likely never imagined would happen to her novel as she wrote it two centuries ago. (For a truly meta experience, check out this Storify of a Twitter conversation about making comics "responsive" between two news design people and myself.)
As a creator of complex female characters, of course, Austen was very much ahead of her time. Two hundred years ago, she was more highly advanced than most Hollywood screenwriters are today.
---