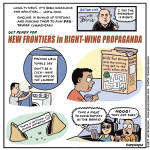 When I first started drawing political cartoons around the turn of the millennium, it seemed like informed people were more overtly appalled by FOX News and the abdication of journalistic standards it represented. Sure, progressives still snark about FOX on Twitter, but in some ways, it has become normalized, just one "side" in a world where every fact, no matter how empirically-derived, must be viewed through the lens of "both sides."
Enter Sinclair Broadcasting's proposed takeover of a huge segment of the local TV news market. Trump campaign spokesgoon Boris Epshteyn has hopped straight from the White House to the role of "Chief Political Analyst" for Sinclair news affiliates. And he's penning op-ed columns too. Here's one on the website for the local ABC station in Washington, DC in support of Trump's policy of militarizing the police.
I highly recommend John Oliver's segment on Sinclair for a more in-depth look at this catastrophe in the making.