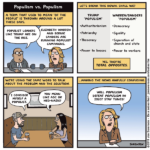 I've been wanting to talk about the word "populism" for a while, as it's been abused so much in political discourse lately that it has become meaningless and, I would argue, misleading. The term has always been a bit nebulous — a positive interpretation is "ordinary people vs. the powers that be" or "the grassroots." A less charitable usage is "politicians pandering to the masses" or "rabble-rousing," which is in itself an implicit critique of democracy's potential excesses — giving the people what they want without regard to the soundness of the policy.
Nowadays, the term is used routinely by journalists to refer to two movements that are pretty much opposites; it has become an empty word that lets journalists off the hook from actually having to describe the content of the political movements to which they are referring. Trump (and Bannon and other right-wing authoritarian leaders around the world) is often referred to as a "populist" because he displays faux concern for the working class and a resentment of science and education, but his policies are in fact grotesquely elitist. If by "populist" we mean whipping up resentment against immigrants and people of color, then we should say that. Otherwise, "populism" is just a lazy euphemism for racism.
Put another way, "populism" has become a tool for false equivalence between corrupt oligarchs and progressive leaders who operate in the traditions of enlightened democracy.