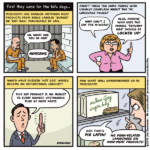 As plant-derived meat products gain in popularity, Big Meat is fighting back with labeling laws such as the one passed in Mississippi. Vox has a good summary:
The state now bans plant-based meat providers from using labels like "veggie burger" or "vegan hot dog" on their products. Such labels are potentially punishable with jail time. Words like "burger" and "hot dog" would be permitted only for products from slaughtered livestock. Proponents claim the law is necessary to avoid confusing consumers — but given that the phrase "veggie burger" hasn't been especially confusing for consumers this whole time, it certainly seems more like an effort to keep alternatives to meat away from shoppers.
According to this Memphis news station, the state is also banning the terms "meatless meatballs" and "vegan bacon." I regret that I found this source too late to include any meatball jokes in the cartoon. I especially loved the response from the Mississippi Agriculture and Commerce Commissioner to charges of anti-competitive protectionism of the meat industry:
"That's hogwash," said Mississippi Agriculture and Commerce Commissioner Andy Gipson. "What prompted this movement is that consumers of Mississippi have been crying out confused about what's on the shelf. Is this meat? Or is this not meat?"
Yes, he actually used the word "hogwash." Also, I think he's insulting the intelligence of Mississippians more than he intends to here. I have a hard time envisioning many people looking at a package labeled "Meatless Veggie Burgers" and crying out in despair "BUT IS IT MEAT???"
I find the right's obsession with meat culturally fascinating. When it made the news a few months ago that cattle farming is contributing massively to climate change, Fox and other outlets went bonkers with fear-stoking about "the libs wanting to take away your hamburgers." The alt-right regularly insults lefty men as "soy boys" (never mind the fact that soy protein is excellent for building muscle mass). Meat is so heavily gendered and semiotically rich, there's so much to unpack!
Help sustain these comics — join the Sorensen Subscription Service!
Follow me on Twitter at @JenSorensen