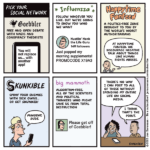 The mad scramble for social network dominance has reached a fever pitch, with Meta/Facebook launching its new Threads app recently. Word is it feels soulless and corporate, and your feed is filled with influencers with large followings that you can't opt out of seeing. The head of Instagram, to which Threads is connected, says the platform won't be encouraging politics, as such topics aren't worth the scrutiny or negativity. (Downplaying "politics" is also convenient if your company has done some extremely questionable political things involving, say, genocide and selling data to unscrupulous presidential campaigns. In fact, it's great for dictators and aspiring autocrats in general!)
I did finally sign up for Bluesky last week, so please follow me if you're on there.
Help keep this work sustainable by joining the Sorensen Subscription Service! Also on Patreon.