The
Sorensen

Monologues

I have a cartoon in a cool book that just came out, Here Come the Brides!: Reflections on Lesbian Love and Marriage, edited by Audrey Bilger and Michele Kort (Seal Press). I collaborated with LA writer and performer Judy Scheer, who was fun to work with, and a natural at prepping a cartoon script (many people are really not).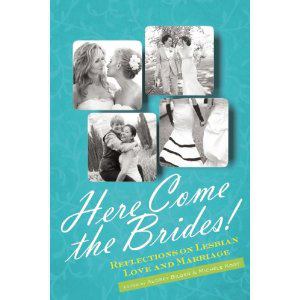 The book is filled with moving essays from women with a variety of takes on relationships and the institution of marriage. Coincidentally, I turned in my final art just as crowds were pouring into the streets of New York City to celebrate the legalization of same-sex marriage in the state. More info at the editors' blog here.
---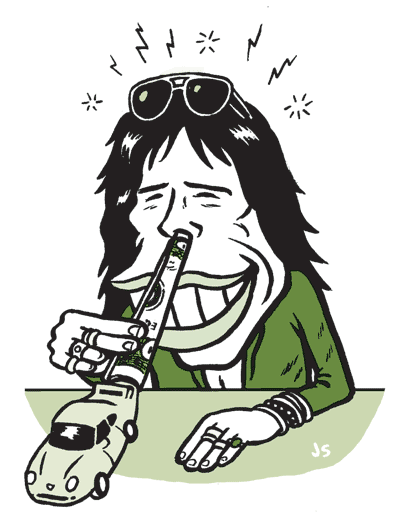 Illustration for the Dallas Observer.
---
Lately I've been illustrating the Dallas Observer's local political column, written by Jim Schutze. Jim's column is something of an institution,  so it's an honor to be providing the visuals. I've learned a lot about the Dallas political scene in the process, and can only say that Molly Ivins was probably right when she declared Texas politics the "finest form of free entertainment ever invented." Here are a couple recent ones; I may post more eventually.
---
Here's a fun illustration I did for this week's Dallas Observer: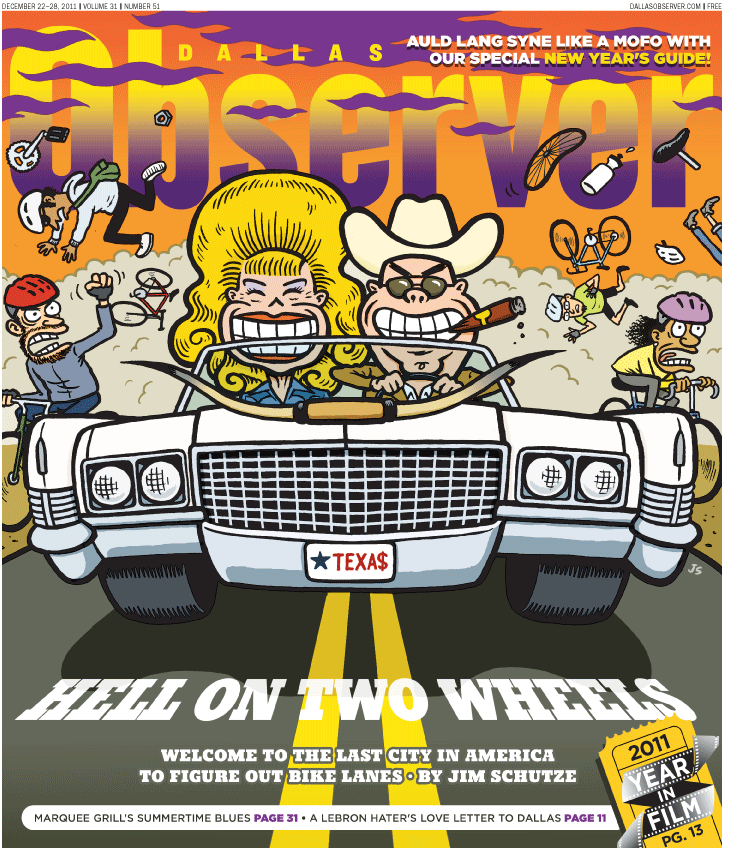 ---
Here's my contribution to the Pepper Spray Cop meme. This is an illustration for the Dallas Observer — their concept, for a political column. Poor John John!
---
Here's my first effort at drawing Rick Perry, for the Dallas Observer.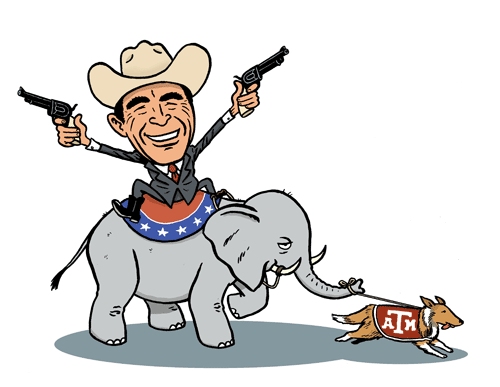 It was actually used as part of a fake t-shirt design ("elephant walking" is a Texas A&M term, I have learned):
Won't it be refreshing when we no longer have presidents or presidential candidates whose caricatures lend themselves to wearing cowboy hats and waving sixguns around? Unfortunately, I don't think that will be anytime soon.
---
I drew this month's "Adventures in Feministory" comic in the back of the latest issue of Bitch, out now. I got to interview the great humorist writer Cynthia Heimel, author of "Sex Tips For Girls" and long-running columns in the Village Voice and Playboy. Heimel was one of my early influences, so this was, like, the coolest project ever. Print-only, so look on newsstands if you don't subscribe.
---
As I mentioned earlier, I had another travel piece in The Oregonian. It's mostly about skiing, but also contains other details, such as a naked posterior. You'll just have to read to find out. The article is accompanied by what I believe is my first purely-digital illustration, a send-up of the old "Endless Summer" movie poster.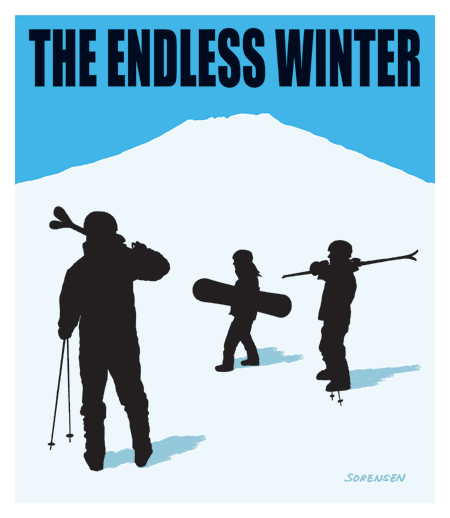 This was a fun project. I had Mr. Slowpoke don ski gear and stand in the backyard (in warm spring weather, of course) while I photographed him from different angles. After bringing the photos into Photoshop, I traced the figure outlines using my Wacom tablet, turning one of them into a female snowboarder. Added some shadows and the outline of Mt. Bachelor with the tablet, and voila!
After I'd started work on this, I discovered that the Warren Miller movie "Endless Winter" had a poster with a similar concept, which freaked me out for a moment, but it looks pretty different, and "Endless Summer" poster parodies are all over the internet. So I say it's fair game.
---
Some freelance projects I've been working on will be bearing fruit in the week ahead. On Sunday, I'll have another travel article in The Oregonian — not a comic this time, but a prose piece illustrated by me. And starting Monday, you'll be able to read a week of Hilary Price's "Rhymes With Orange" cartoons that I wrote and drew as a guest cartoonist so that Hilary could take a much-deserved vacation. I'll be linking to these in the days ahead. But be on the lookout if you subscribe to the Oregonian, or a newspaper that carries Rhymes With Orange!
---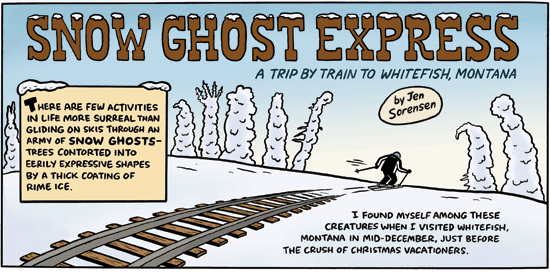 Now it can be told: I have my first graphic travelogue appearing in Sunday's Oregonian, filling a full newspaper page and a half in the travel section. But you can see it online now! This is the most ambitious project I've taken on in a while, and I loved doing it. I'll be posting some photos of the trip here soon.
---
Thought I'd share something fun I created recently for Geeks Who Drink, a company that puts together pub quizzes. It's a rare foray for me into the realm of scatological humor, but as a dog owner who spends a fair amount of time wielding a poopsack, it came naturally. Nixon is also fun to draw.
---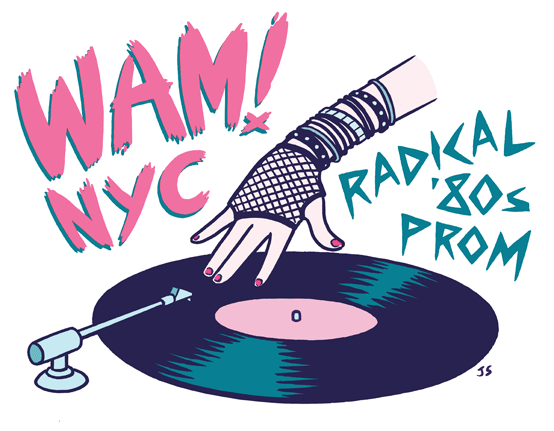 Here's something I drew for the WAM! (Women Action & Media) Radical '80s Prom to be held in NYC on December 3. If I lived in New York, I would TOTALLY be there. It's 10pm-2pm at the Bowery Poetry Club; proceeds benefit ladyfolk in the media. More info here.
---